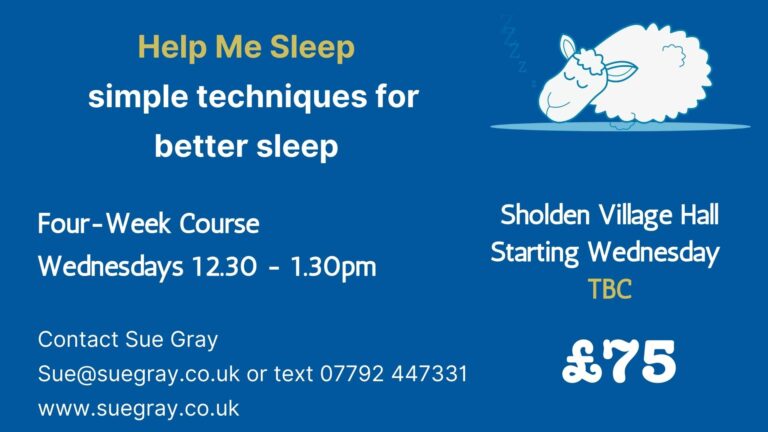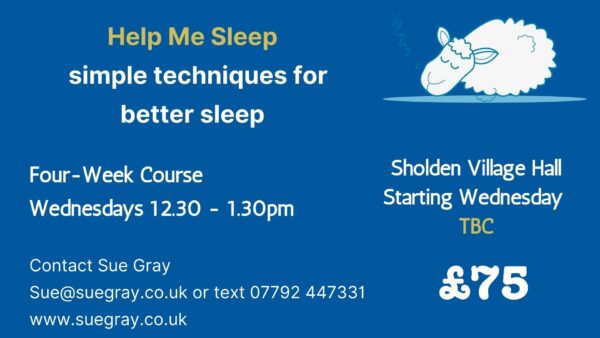 Wednesday, 18th October to Wednesday, 8th November 2023
Cost: £75 for 4 weeks
Four Week Course
Wednesday Lunchtimes 12.30 – 1.30 pm
Learn how to improve your sleep in a small group, with Sue Gray, Kent's Sleep Coach and Therapist – without spending a fortune! 
Poor sleep affects every part of our lives.  When we are tired, we have less patience, it is harder to focus, and it has a negative impact on our mental and physical health.   Did you know that fatigue is a factor in over 40%- including Chornobyl, Croydon Tram Crash, and the Space Shuttle Crash?
In this course,  you will learn:
The essential components of good sleep,

What to do if you cannot sleep

Calming & relaxation techniques

How to cope the day after a poor night's sleep

How to unwind after a stressful day

How to stop overthinking

Know where to get more help and alternatives to sleeping tablets.
This course combines practical sleep coaching with therapeutic techniques with your conscious and unconscious mind to reduce overthinking and worrying.  You will also learn to relax and switch off.    If you need more help, you can book a one-on-one session at a discounted rate.